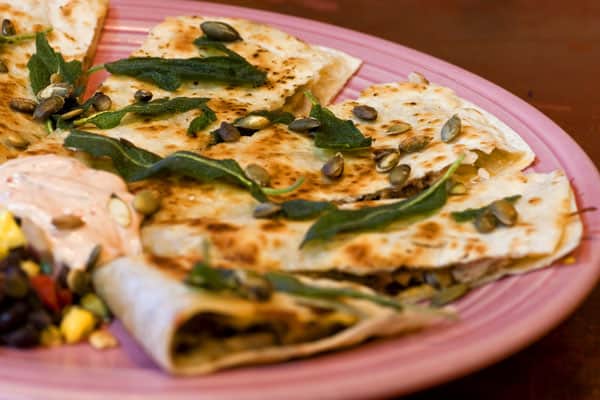 What is "southwestern cuisine," anyway?
Southwestern cuisine is as much a spirit of cooking as it is a style. It's a melting pot of flavors – Mexican, Spanish colonial, Native American, cowboy – that's open to interpretation and creativity.
We use a lot of traditional ingredients and techniques in our dishes – spicy green chiles, flame-broiled meats and vegetables (to get that perfect char flavor) – but are continually experimenting. Our popular Yin Yang Salad , for example, incorporates snow peas, cashews and other Asian influences to create a dish that's both familiar and incredibly unique.
Southwestern cuisine is versatile, vibrant and, as Bobby Coyote and our head chef, Mark Casale, demonstrate, constantly re-inventing itself.

Delicious meets nutritious
As a supporter of Sacramento's farm-to-table movement, we've always believed the best food comes from the best ingredients. We only use top-quality meats:
Juicy, wild-caught salmon
Choice-grade or higher Angus steak (not that "Angus beef" shoulder cut a lot of restaurants promote)
Premium, citrus-marinated seafood
Sweet, savory pork
Tender, fresh (never frozen) chicken
…and the freshest possible produce:
Seasonal
Sourced as locally as possible
Delivered daily
All of Dos Coyotes' legendary salsas, marinades and guacamole are made fresh each day. Our tortilla chips come from our kitchen (made with low saturated fat canola oil), not a bag.
Our menu is delicious, nutritious and diverse, providing options that support the diet and lifestyle that's right for you, including:
"Have you had your Dos today?" isn't just our tagline. It's a prescription for a healthful lifestyle. And we're deeply proud of that.